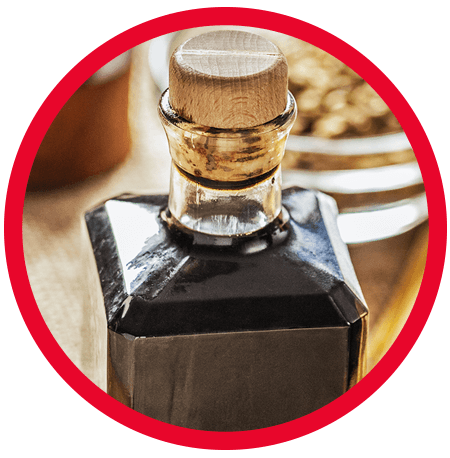 Balsamic Vinegar of Modena PGI
The "Aceto Balsamico di Modena" (Balsamic Vinegar of Modena) PGI ranks among the top foods and wines for its unique and incomparable characteristics. It is made according to an age-old recipe from grape must, wine vinegar and a special sense of patience that is exquisitely Modenese. Because of its particular personality, the European Union gave Balsamic vinegar of Modena the PGI label in 2009 denoting a Protected Geographical Indication.
All our production of Balsamic Vinegar of Modena PGI complies with the guidelines of the PGI production regulations, specifying:
The use of cooked and/or concentrated grape must; wine vinegar with ageing up to ten years.
Must made only from the following grape varietals: Lambrusco, Sangiovese, Trebbiano, Albana, Ancellotta, Fontana, and Montuni.
Ageing in hardwood barrels, in our case only Oak, for minimum 2 months (fining), and up to 3 years or more (ageing)
The Acetaia Borgo Castello product range includes lines offering different qualities, recipes specially developed with different types and quantities of grape must and differentiated to meet specific market demands and tastes, in order to offer a speciality ready for bottling with a private label or to be used as a raw material in different types of preparation such as condiments, creams and glazes.
Balsamic vinegar of Modena is naturally gluten free, suitable for vegetarians and vegans, and Acetaia Borgo Castello also offers organic quality certified by BioAgricert.
Get a quote!
You can request a price quotation by filling in the form we created for you.
Available products in: Balsamic Vinegar of Modena PGI
Get a quote
Fill in the form below with the product that interests you.
( * required fields)