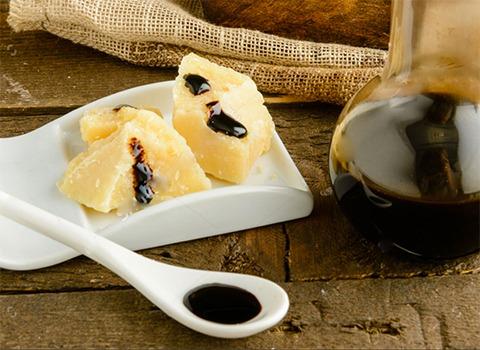 Back to: Balsamic Vinegar of Modena PGI
Aged Balsamic Vinegar of Modena PGI
Balsamic Vinegar of Modena PGI
Balsamic Vinegar of Modena PGI is "aged" when it has spent at least 3 years ageing in wooden barrels. Afterwards, the product label can include the description AGED, the only descriptor allowed along with the official product name.
The product still has its balanced, sweet and sour taste but differs in the delicate notes received from the wooden barrels in which it was aged.
Aged for more than 3 years in small barriques, it is ideal for those who love unique, unmistakable flavours. Aromatic and with a superb aroma. Just a few drops will give any dish an unmistakable flavour. A prime product for haute cuisine.
Superior quality with a very high percentage of cooked grape must, this is a vinegar for connoisseurs. Particularly delicious on Parmigiano Reggiano, strawberries and with haute cuisine dishes.
SALES FORMATS AVAILABLE:
All bottle and Bulk formats
AVAILABLE WITH:
Conventional or Biological;
With Private Label or Our Label.
Get a quote!
You can request a price quotation by filling in the form we created for you.
Get a quote
Fill in the form below with the product that interests you.
( * required fields)