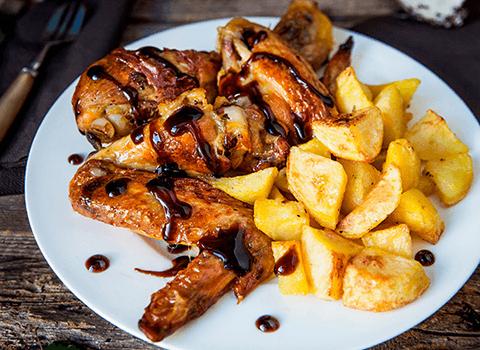 Back to: Glazes
Classic Glazes
Glazes
Classic Glazes are made with Balsamic Vinegar of Modena PGI and grape must.
They have a delicate taste and are less acidic compared to balsamic vinegar, and can be used for cooking and baking. Their delicate and sweet and sour taste adds appeal to any recipe.
They are dense and syrupy, making them ideal for topping or decorating dishes without the need for prior preparation.
Glazes with Balsamic Vinegar of Modena are ready to use; no cooking is required so use them directly on food.
They are extremely simple to use: only a small amount is needed to enhance the flavour of any dish, from starters to desserts.
They are an innovative alternative to mayonnaise and ketchup: extraordinary on grilled meat, roasts or kebabs, hamburgers or ham.
Exceptional on fish, be it fried, boiled or grilled.
Wonderful on raw or cooked vegetables. Tempting with French fries. Irresistible on strawberries, vanilla ice cream and panna cotta.
SALES FORMATS AVAILABLE:
All bottle and Bulk formats
AVAILABLE WITH:
Conventional or Biological;
With Private Label or Our Label.
Get a quote!
You can request a price quotation by filling in the form we created for you.
Get a quote
Fill in the form below with the product that interests you.
( * required fields)