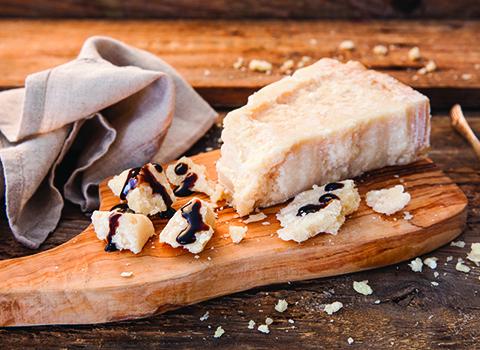 Back to: Special condiments
Glazes for Cheese
Special condiments
Glazes for cheese combine a balsamic vinegar of Modena glaze with a mix of spices and natural flavourings.
We identified four of the most famous cheese categories from around the world: hard cheese, like Parmigiano; soft cheese like ricotta and mascarpone; blue cheese, like gorgonzola; and mozzarella.
We have studied 3 flavourings for each one of these categories that will bring out the full flavour of the cheese or provide a delicate contrast at the back of the palate.
AVAILABLE FLAVOURS:
Special glaze for Parmigiano cheese
Pear and Honey
Mango and Onion
Hazelnut and Mostarda preserve
Special Glaze for Mozzarella
Oregano and Tomato
Cucumber and Oregano
Saffron and Pepper
Special Glaze for Gorgonzola
Cherry and Cinnamon
Coconut and Mostarda preserve
Citron and Walnut
Special Glaze for Ricotta and Mascarpone
Forest fruits and Maple
Coffee and Pistachio
Chocolate and Orange Blossom
SALES FORMATS AVAILABLE:
All bottle and Bulk formats
AVAILABLE WITH:
Conventional or Biological;
With Private Label or Our Label.
Get a quote!
You can request a price quotation by filling in the form we created for you.
Get a quote
Fill in the form below with the product that interests you.
( * required fields)